Adding a Territory to the Map
Adding a territory will highlight a particular area on the map with a shaded color and boundary outline. This can be helpful if you want to visualize a specific territory on the map, e.g. a county or zip code, or analyze map data within the territory, e.g. customer sales data in specific markets.
To add a territory, use the "Territory Search" box to search by name or zip code for the territories you wish to add, then click the "Search" button to view results. In the Territory Search Results window, click "Add To Map" for the territories you want to add to the map.
---
Example: Adding a Territory to the Map
Step 1: Under "Territories", enter a keyword or zip code in the "Territory Search" box.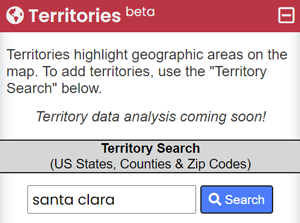 Then click "Search" to view territories that match your query. If matches are found, a modal window will launch with the returned results.
Step 2: In the "Territory Search Results" window, click the "Add To Map" button for the territories you want to add to the map:

Step 3: When you are finished adding territories, close the results modal window and you will see the territories have been added to the map: